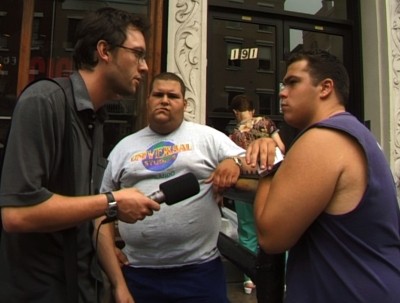 SYNOPSIS
Shortly before he died in 2007, Jörg Kalt gave the raw material for SHOPS AROUND THE CORNER to his friend and colleague Nina Kusturica, asking her to edit the film. He shot the footage together with cinematographer Eva Testor in New York in 1998, at the dawn of the new century. But after the events of 9/11, he found it impossible to finish the film the way he had envisaged.
Nina Kusturica assembles this footage that dates back almost two decades to form a macroscopic portrait of changing times at the Mulberry and Grand Street junction, the main streets of Little Italy and Chinatown in New York.
SHOPS AROUND THE CORNER examines issues like origin and belonging, neighbourhood and loyalty, bringing emotions such as envy, rejection and fears about the future to the fore.
The Banca Stabile and its untraceable owners are silent witnesses of first-generation Italian immigrants. This film tracks down the last living members of this generation: they came to New York as foreigners and now they are Americans who are at odds with the new immigrants from China. The curious encounters with the business people and their shops selling Italian souvenirs and Chinese curiosities are merged into a kaleidoscope. The businesses, the food and the solidarity within the community are the pillars that support the eternal search for a corner of the world to call our own.
ON OUR METHOD – TEXT BY JÖRG KALT
NEW YORK 1998, TEXT BY EVA TESTOR